Hi lovely people!
After taking a long Christmas break from everything to travel to New York and Greece, I'm now back and looking forward to exploring all the exciting new trends in the worlds of fashion and beauty!
Travelling from a wintery New York City to a pretty chilly Greece (yes for real!) and back to a frosty UK, one thing keeps coming to mind: Jackets and Coats. Beautiful, elegant coats that will keep us warm and get us through the cold weather ensuring that we don't have to compromise our style.
From days at office to glamorous nights out and relaxed weekends, a statement coat can transform every outfit making it special.
The options are endless but these are some of my favourites for 2015:
While being in New York, Ann Taylor was one of my favourite shopping destinations. I love the affordable luxury of the brand and-yay!!- they also ship to the UK. The combination of the woolen texture of this coat with its lovely Chianti colour reflects warmth and comfort. Its versatile style makes it easily combined both with skinny trousers and biker boots for a polished day-look as well as with dresses and heels for an elegant night-look.
Nothing can better help an office look to stand out than a chic Reiss Coat. In a proper Olivia Pope style, this cotton wrap coat in abyssal blue, reflects professionalism and femininity.
Finding a jacket that will keep us warm and dry on a day outdoors while allowing us to still be fashionable has always been a great challenge. This waxed cotton parka masters the Barbour classic vintage look adding stylish modern elements to it like the faux fur trim hood and the multiple pockets throughout. Sophisticated casual look at its best!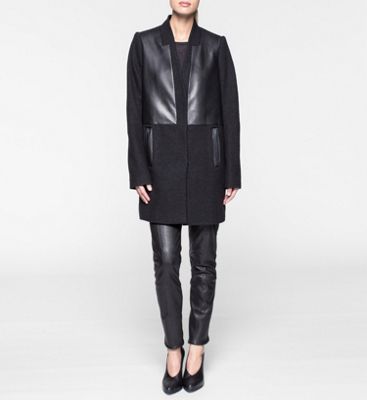 I absolutely adore this Calvin Klein coat! The leather panels added to the wool create a strong modern effect making the piece a fashion statement of casual luxury.
There's nothing I like more than adding a bit of colour to a dull winter day. And this Warehouse woolen coat masters it! Its vibrant colours create a unique effect; fun, youthful and stylish.
0