Happy Sunday everyone!
These past few weeks have been quite stressful for me (hence the lack of updates) and one of my favourite ways to relax and revive after a difficult day is a long hot bath.
It's one of the best ways to clear body and mind and there are some really lovely products out there that can make the experience a real treat!
I always start by lighting some nicely scented candles to create a warm atmosphere.  I love the Anthropologie soy candles and my favourite these days is a Hot Buttered Rum scented that I bought from New York last Christmas. It also comes in a beautiful tin which makes it great for home decoration.  I am now looking forward to try their Good Nature line of candles which are made from natural vegetable paraffin wax and come in the refreshing scents of Avocado & Mint, Pomelo & Sea Salt, Coconut Milk Mango and Grapefruit & Cilantro.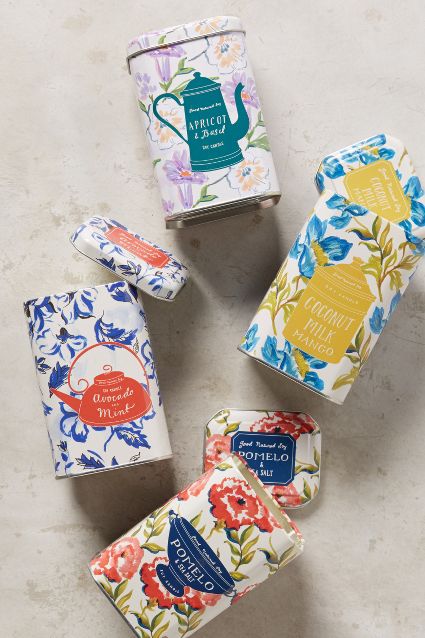 I always find it difficult to choose from the big variety of beautifully smelling Bath Milks available but a lovely friend recently gave me as a gift The White Company's White Lavender Bath Milk and now I can't get enough of it! I don't usually prefer Lavender based scents but this bath milk is also blended with notes of bright basil and Sicilian lemon which create a scent of freshness. It also contains vitamin E which leaves the skin extra soft. It comes in an elegant glass decanter that makes it feel even more precious!
When it comes to shower gels, I recently discovered Philosophy and ever since I have developed a huge crush on their bath and shower gels (which can also be used as shampoo). I love the deliciously sweet scent of the vanilla birthday cake and nothing smells more like summer than their melon daiquiri.
Nothing can beat the Lush  selection of bath bombs and luxury bath melts! As I'm a sucker for anything pink I love the Mmmelting Marshmallow Moment and the Fluffy Egg which gives the water an uplifting vibrant fuchsia colour.
I don't always have the energy to use an exfoliator, but when I do I swear by the Soap and Glory Smoothie Star Breakfast Scrub. It leaves the skin amazingly smooth and its maple syrup fragrance is irresistible.
A nicely scented and deeply moisturising body lotion completes the treat. I always pick a Victoria Secret one whenever I can find it! I am now using the Love Spell and I'm loving its flirty cherry blossom and peach scents.
And now I'm off to fill my bathtub with steaming hot water 🙂
Have a very relaxing Sunday all…
Eleni xx
0