There are so many things that I love about Autumn fashion!  First of all, the warm, earthy colours. All these deep reds, yellows and browns seem to compliment every skin tone, are big Instagram hits and really great to look at. Also, the soft, cosy fabrics that make autumnal clothes so huggable. And of course the laid back, comfortable designs!
Autumn Fashion Edit-The Oversized Jumper
This Autumn, the oversized  jumper is on the fashion spotlight with every fashion blogger/vlogger talking about their jumpers collection. I have to admit that my 5′ 2″ height and hourglass figure doesn't agree with a lot of the jumper designs out there as many of them make me look shapeless. However, I kept looking as I really-really like a beautiful oversized knit and wanted to add it to my wardrobe. 
I found my one on this River Island roll neck jumper. I fell in love with it as soon as I saw it in the shop because of its gorgeous, wine red colour. It was also unbelievably soft to touch so I did say a little prayer to the Gods of fashion on my way to the changing rooms for it to suit me nicely.  And it did! I'm so happy with this purchase 🙂

Another jumper favourite on my wishlist is this gorgeous H&M Knitted Jumper  because it's in the cutest pink colour, has oversized balloon sleeves and a beautiful pattern.  You can style it up or down for a more casual or dressy look.
This Miss Selfridge's Petite Crew Cable Jumper is a winner too for its festive bright red colour and the beautiful detail on its sleeve.
Autumn Fashion Edit-The Coat
The coat plays such an important role in the autumn/winter fashion as it can make or break an outfit. Much as I love a statement coat I love the versatility of a classically elegant coat with a clean line. I bought mine from Greece and it is made by an Italian brand called Rinascimento. It was my mum's gift (the lady's got taste!) and I love wearing it as it's the perfect day to night coat.
One of my favourite coats this season is this Zara soft crossover coat.
Its feminine, soft pink colour makes the perfect contrast with its masculine line and strong collar detail.
The coat that really stole my heart though, is this Ted Baker Kikiie cashmere blend coat.
From its stunning maroon colour to its classy lines and gold details, this is definitely my dream coat.
Autumn Fashion Edit-The Trousers
I am a huge fan of the ASOS Ridley high waist skinny jeans. I have them in many colours and I wear them all the time! In autumn and winter, I love wearing them in clean black.  They are super comfy because of their soft high-stretch denim and their high waist design is very figure-flattering.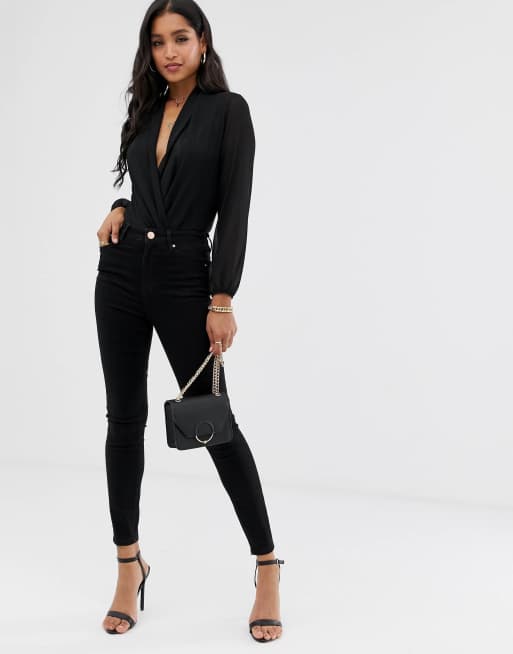 I'm also loving the design of the Topshop MOTO Black Stirrup Joni Jeans 
and the MOTO Black Orson Slim Jeans again from Topshop
Autumn Fashion Edit-The Shoes
I bought my Bershka Chunky Loafers from ASOS after an injury prevented me from wearing any sort of heels and hence, my ankle high boots which I used to wear every day. I was looking for a pair of flat shoes with a thick sole to wear in the office. I have to admit that these loafers aren't something I would have normally gone for but I loved them as soon as I tried them on. Super comfortable to walk in, they are perfect for a day to night outfit and very versatile.
Other shoes I'm loving this Autumn are these OfficeRetro Tassel Loafers in Burgundy Suede
as well as these & Other Stories elastic leather ankle high boots  for their clever, innovative design.
Autumn Fashion Edit-The Bag
I actually bought my Zatchels Oxblood Satchel bag last Spring when  I was in York because I fell in love with its beautiful deep red colour and stylish design.
The Accessorize Ali City Backpack is another bag I have my eyes on! Minimal but elegant, I love its colour and handy shape that makes it the perfect everyday back.
What fashion pieces are you reaching for this autumn?
Love,
Eleni xx
0