Hi Everyone,
I hope you are all well and that your weekend has been better than mine!
It's been ages since the last time a cold kept me in bed. Unfortunately, this is exactly what happened the weekend that just passed. It's funny how when I'm healthy and feeling good, I keep thinking how I'd love a lie-in and an excuse not to do anything ,but when that actually happens I absolutely hate it! Anyway…
As I was stuck in bed, I thought I would entertain myself with some online shopping. It's been a very long time since I bought anything new and I was in need of some staple items for my office outfits. Plus the sales were still on and I hadn't bought anything yet. Have I given you and my guilty conscience enough excuses yet?
As I was browsing online, I came across some beautiful clothes and accessories to put in my wish list for my Spring/Summer wardrobe. I can't wait for when the weather will be more pleasant to allow me to wear something more elegant than the layers of blanket/duvet-looking clothes that I seem to be wearing these days.
I love curating a capsule wardrobe for each season. The last time I did it was in September and it made my life so much easier. My wardrobe has started looking its old messy self now though, and I have definitely lost my outfit mojo. I am planning to redo it when I am feeling better and have the energy to face this monster!
In the meantime, I wanted to share with you the items I have already put in my wish-list for Spring.
I like neutral shades as they always look classy and elegant and you can easily style them with beautiful accessories. I fell in love with this Zara dress which I actually bought as I didn't want to risk missing it. I love how airy and comfortable it looks and I imagine it styling it with beautiful golden accessories.
This white Organza top from Zara's new collection is gorgeous as well; especially the flower details on the sleeves.
I loved this pair of Zara slouchy jeans too but I won't be buying them as sadly they don't agree with my body type. I so wish I could pull off this effortlessly sexy, boyish style but have to admire it from afar.
One of the items that's never missing from my wardrobe is a midi leather skirt. It's an item that is versatile as it can be worn both as a day time and night time outfit, it's sophisticated and sexy. I love this camel leather skirt from Marks & Spencer's Autograph line.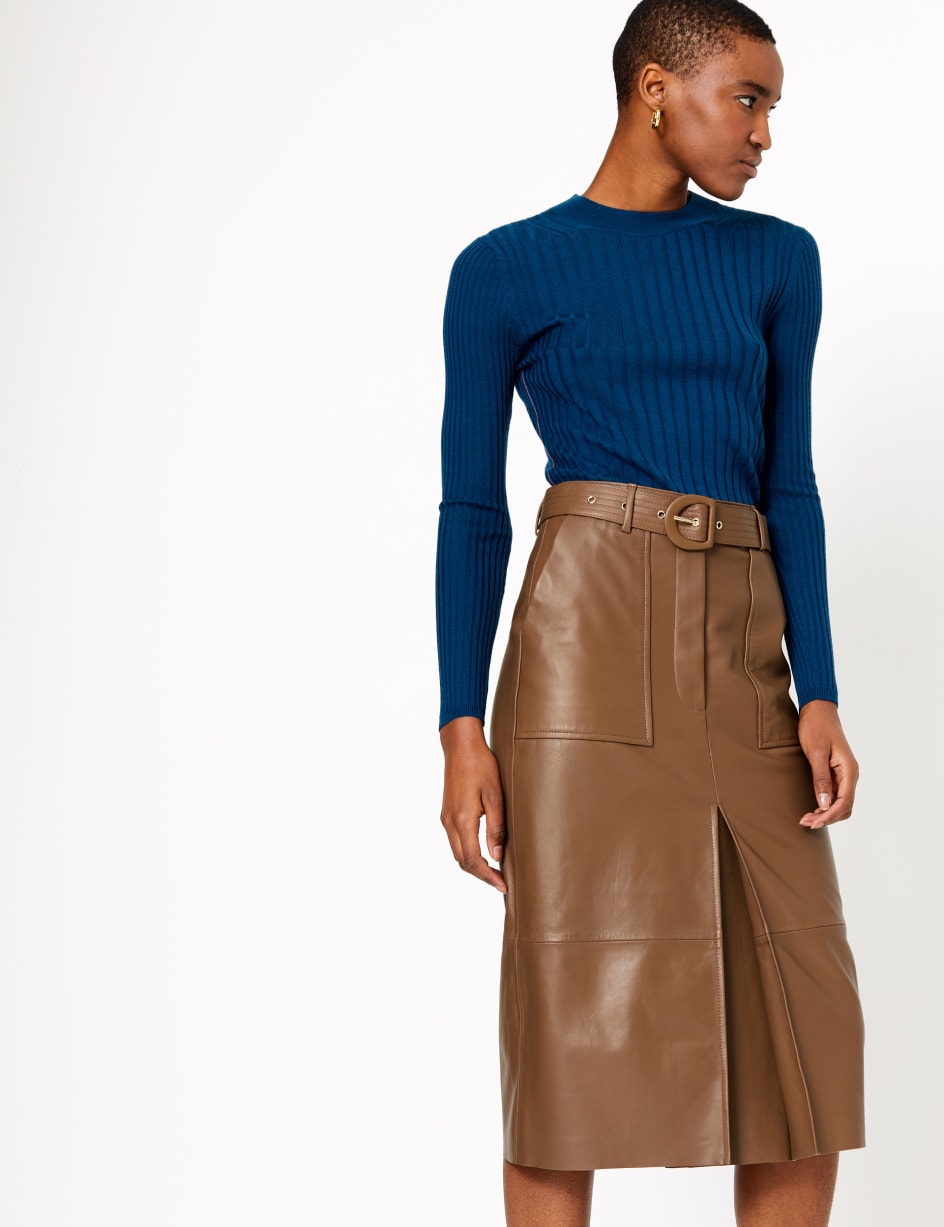 A must-have in my wardrobe is a pair of stylish sneakers. I walk a lot every day and I also have a leg injury so comfort is essential. Thankfully, the Gods of fashion smiled upon us and made stylish trainers a thing so we can combine elegance with comfort. I love the Georgie style of Michael Kors trainers and although it can be a pain to keep them immaculately white, I can't but lust over this pair. I think that the wedge heel makes them perfect for both trousers and skirts/dresses and the golden details add to the wow factor.
Another type of shoes that I like to wear during Spring time is loafers. I love these Moccasin loafers with tassel details from Dune both in the white and tan version.
Finally, when it comes to accessories, a tan bag is a staple for Spring/Summer. This Lauren Ralph Lauren shoulder bag is absolutely gorgeous and it combines my three favourite summer tones: white, tan and gold.
Since this is a wish-list, please allow me to add to it this little bag of dreams… The Gucci Marmont mini bucket bag has well and truly stolen my heart. Just saying…
I hope this blog post gives you some inspiration and awakes some anticipation for the new season..
Have a lovely week,
Eleni xx
1